If you are a modern man in 2023, you know the struggle of watching to look smart but having to do it on a budget. Fashion influencers on Instagram are fierce and know what they're doing. Looking at them can be intimidating but also very impressive.
Looking at people bringing their fashion A game can make anyone wonder how to achieve the same charm. Wanting to pull off those fits without breaking the bank can also be a massive struggle. In this frugal male fashion guide, we'll dive into the world of budget-friendly style and uncover the secrets to looking' sharp on a shoestring budget. Get ready to level up your wardrobe game without emptying your pockets!
The Art Of Drippin' On A Budget
Welcome to the ultimate style guide for fellas who want to dip their feet in unknown territory: Fashion! If you want killer outfits with unbeatable charm without wasting hard-earned money on overpriced clothes, this is the article for you. This will be your go-to resource for mastering the art of fashion but on a tight budget. 
Say goodbye to feeling self-conscious and welcome thrilling possibilities which involve moving with a lot of swagger. Having a clean and well-put-together outfit will automatically give confidence to anyone. We will help you discover useful life advice such as thrifting and making use of the items and appreciate them for being vintage.
Besides that, accessorizing correctly is anyone's best friend if they want a fresh style. Savvy essentials are the easiest way to make any outfit work by mixing and matching. 
Budget-friendly footwear is every struggling fashion-forward person's best friend. In this article, we'll be revealing a variety of tips and tricks for you to explore and discover.
Thrift Like a Pro
Thrift stores have become the favorite frugal fashion hunting grounds these days. It has been 5 years since the slow but then sudden rise of thrift stores has been on everyone's radar. From broke teenagers to people who have a knack for discovering vintage clothes, everyone enters thrift stores with a wave of excitement. 
Despite the stereotypes, thrift stores are a treasure, one that has been discovered. This is why a lot of them can be quite pricey, especially in bigger cities and affluent areas. However, if you are smart with it and find one which is lowkey, then the prices can be extremely budget-friendly despite the item being expensive. 
Whether it's a vintage denim jacket that oozes retro charm or a classic button-down that'll give you James Dean vibes, thrift stores have got your style cravings covered. The beauty of thrifting is the hunt. The fact that so many options are laid out, and it's entirely up to you to pick and choose to make outfits is thrilling. From statement jackets to cool and powerful shoes, anything can make your closet boom if found with excitement and passion.
4 Must-Have Items
Every stylish guy needs a collection of versatile essentials that can be mixed and matched to make a few different but equally cool outfits. Here are some must-haves that should be present in your wardrobe:
1. Crisp White Tee
The humble white tee is a timeless classic that serves as the perfect canvas for countless outfits. Pair it with pure blue denim jeans or just wear it under a few flannels, it will create the best effortless vibe. Pro tip: Invest in white t-shirts which fit you well and compliment your body and that will create multiple well-rounded outfits.
2. Dark Wash Jeans
A perfectly tailored set of deep indigo jeans can instantly elevate any ensemble, exuding elegance. Whether you choose to style them for a chic evening occasion or opt for a casual look with a graphic tee for a swift trip to the store, these jeans are always a reliable choice. Once the right length and fit are found, those jeans will be there for you till you don't throw them away. They have proven to never disappoint.
3. Classic Oxford Shirt
Elevate your style with a classic Oxford shirt. It's perfect for both business-casual and smart-casual occasions. The sleeves can be rolled up depending on how much you want to relax or just tuck it in for a more formal look. It is the easiest way to exude timeless elegance.
4. Sneakers with Style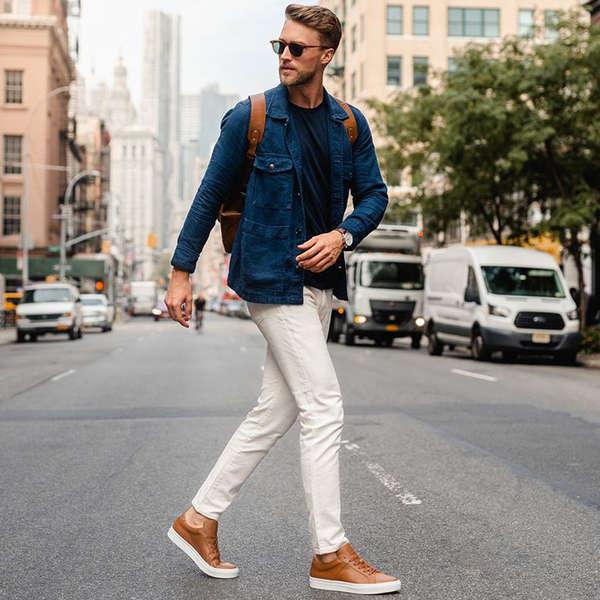 A cool pair of sneakers is a must-have in anyone's wardrobe! They can represent your personality while also keeping you comfortable. Whether you choose bold or classic white, colorful ones, they tell a lot about a person. It is said that sneakers make or break a first impression because that is what people judge you from.
Accessorise and elevate Your Outfits
Never underestimate the power of accessories! They're the secret sauce that takes your outfit from plain to pizzazz. Here are some essential accessories to accentuate your personality and personal style.
Statement Watches: A slick watch on the wrist adds a touch of sophistication. A classic and timeless design that looks somber can go with pretty much any outfit. It is important to note durability along with the style so that the watch is more long-lasting. It doesn't have to be a heavy price tag, either.
Snazzy Socks: Bold, funky socks are an underrated accessory. Show off your personality by rocking those quirky patterns or vibrant colors. The glimpse of a color popping out from someone's socks when they cross their legs can be very flattering and eye-catching. Everyone appreciates some funk and if it is something funny printed on those, it makes it even better.
Elegant Sunglasses: It is important to invest in good sunglasses for the summer. Keep in mind that a hefty price tag is not the priority. What should be prioritised is your face shape and if the glasses suit you or not. From ray bans to wayfarers, there's a perfect match for everyone. Pro tip: Look for affordable yet high-quality sunglasses that provide UV protection for those sunny days ahead.
 Fashionable Footwear on a Budget
Who says stylish shoes have to be expensive? Here are some budget-friendly options that won't have you sacrificing your fashion integrity:
Chukka Boots: Versatile and comfortable, chukka boots are a fantastic addition to your shoe collection. Their appearance can easily transition from formal to casual, depending on the accompanying ensemble. They can be paired with jeans or chinos for a relaxed yet elegant look.
Canvas Sneakers: When the sun's out, it's time to let your feet breathe. Canvas sneakers are affordable, lightweight, and perfect for a casual, summery look. If you are someone who likes colorful shoes, these can be the choice for you. They come in solid colors and black and white.
Chelsea Boots: A person's style is immediately taken into notice if they are wearing Chelsea boots. They have the morphing ability to be both formal and casual simultaneously. The real ones are quite expensive as they are made from authentic weather. However, synthetic leather options would do the same job while being cheap.
Style Hacks: Tricks of the Trade
Now that you've got the essentials down let's dive into some style hacks to maximize your fashion game without burning a hole in your wallet:
Tailor Your Fits
No matter how affordable your clothes are, the right fit can make a world of difference. It is important to find a reliable tailor who can make adjustments to clothing on short notice. Also, the quality between an expensive product and a well-tailored one has no difference. Sometimes clothes are just all about fitting. 
Layer Like a Pro
If you learn how to layer properly by replicating from the internet, there will be a proper dimension to the outfit. Experiments y combining t-shirts, jeans, jackets, and different shoes can lead to a unique style. This often mirrors a person's personality. For example, a plain flannel shirt over a white t-shirt or leather over a grey hoodie makes for a cool look. These add-ons can create that touch of style magic.
Follow Sales and Discounts
Keeping an eye out for sales is very important for anyone on a budget. Patience pays off, and you can snag some fantastic deals on stylish pieces. Sign up for emails from brands so the upcoming sales are forwarded, and it gets easy to schedule a visit to the nearest outlet and get a certain item. 
Swap and Share
Sharing clothes with buddies can be such a blessing in disguise. It's just such a fun activity to mix and match with friends. You never know; their unwanted clothes might be your next style breakthrough! It's an eco-friendly and budget-friendly way to revamp your wardrobe without spending fortunes.
5 Tips For Frugal Fashion
1. Clearance Sections and Outlets
Don't forget to check out clearance sections and outlet stores of your favorite brands. Every once in a while, you might be eyeing a certain item, but it's too expensive. Well, then, these discounts are the way to get a desired piece. 
2. Online Marketplaces and Secondhand Apps
Online marketplaces like eBay, Poshmark, and Depop are treasure troves for budget-friendly fashion finds. Browse through pre-loved clothing and accessories to score deals on branded items that are still in excellent condition.
3. DIY and Upcycling
Trying DIY can be very fun and creative. This gives everyone an outlet to personalize their belongings and make them unique to them. You can give new life to old clothes by adding patches, distressing jeans, or transforming a shirt into a trendy crop top. It's not only cost-effective but also adds a personal touch to your style.
4. Seasonal Shopping
Plan your shopping around the seasons. Off-season shopping often means lower prices on clothing items that aren't in high demand at the moment. For instance, buy winter jackets in the spring and summer shorts in the fall.
5. Rent for Special Occasions
If a wedding or another special event is coming up, formal clothes can be quite expensive. This is why there are various rental stores and online shops which give everyone access to rent out outfits. They even do that for high-end pieces because people are interested in those as well. 
Conclusion
And there you have it, my fashion-forward friends! Having a good style doesn't necessarily mean that someone comes from money. With some thrift store treasure hunting, savvy essentials shopping, and clever accessorizing, you can be a frugal fashion king! Ultimately, it's not about how you look but how you carry yourself. If confidence is playing a role in your outfit, you are good to go. So go ahead, flaunt your fashion sense, and inspire others to embrace their unique style, no matter the budget. Keep drip-drippin' on a budget, and let your style shine!
Frequently Asked Questions (FAQs)
Is it possible to look stylish on a budget?
One need not always come from a wealthy background to have good taste. With the right shopping strategies, thrifting, and smart accessorizing, you can achieve a fashionable and dapper look without breaking the bank.
How can I find affordable and trendy clothing?
Aside from exploring thrift stores and clearance sections, consider shopping at outlet stores, browsing online marketplaces, and following budget-friendly fashion bloggers for style inspiration. Don't forget to check out clearance sections and outlet stores of your favorite brands.
Can I still wear branded clothing on a budget?
Yes! If seasonal sales are to be taken complete advantage of, then anyone can wear branded clothes at a fraction of the price. Remember, style is not just about wearing expensive clothes but about how you put together your outfits.
What are some key wardrobe essentials for a frugal fashionista?
Invest in versatile essentials like a crisp white tee, dark wash jeans, a classic Oxford shirt, and a stylish pair of sneakers. 
How can I tailor my clothes without spending too much?
Look for local tailors who offer affordable alteration services. Tailoring your clothes to fit your body shape can make a huge difference in how your outfits look and feel, without costing a fortune.
I am a fashion enthusiast who loves to blog about the latest trends. I believe that fashion should be fun and accessible to everyone, by striving to provide my readers with the latest news and information about the fashion industry, as well as advice on how to style the latest trends.